The forum is powered by discourse which comes with a great app as well.
Notifications on your phone is a nice feature, but it is just convenient as well for a forum like ours. Take a picture of some technical trouble and post directly!
instructions
get the app called Discourse Hub:
Open the app and add our sportinaforum:
Hit the + sign on the top right and enter "www.sportinaforum.net".
Open the forum and sign in like you do normally. You should get something like this
Important!
4. Install the sportinaforum as a separate app in your phone so you don't have to go to discourse hub every time.
Hit the three Dots in the top-right corner:
Select install the app: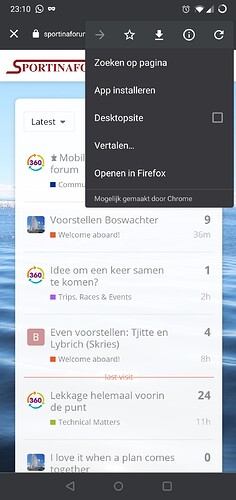 The app with the sportinaforum logo should be in your overall list of apps. You can add it to your home screen like any other.
What do you think of the app?
Yes the app is great. Posting with photos straight from my phone!
Not for me, I like browsing the forum on my computer only
Didn't know about the app, I will give it a try!